Acupuncture for Interstitial Cystitis and Disorders of the Urinary Tract System
The UK Centre for the treatment of Interstitial Cystitis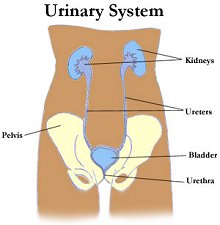 The Scope of Acupuncture for chronic and acute disorders of the bladder; interstitial cystitis, stress incontinence, repeated bacterial cystitis & vulvodynia.
Whilst several modalities in the management of chronic and acute disorders of the bladder have helped many patients, there remain those who suffer from persistent pain and complain of ongoing and agonising IC symptoms, both of which are debilitating.
Acupuncture can be used as a modality to complement orthodox IC treatment or as an alternative therapy on its own. This is because Traditional Chinese medicine has the ability, by means of its own diagnostic tools and framework, to make syndrome differentiation and diagnosis and to treat vast numbers of disorders.
Physiological Effects of Acupuncture
Through clinical practice, experimental studies and much research work, it is clear that the effects of traditional acupuncture may be divided into two main components – acupuncture analgesia and therapeutic acupuncture. Both components play an important role in the prevention and maintenance of health, whilst helping to treat bladder problems. Needless to say, in practice, the two components complement each other.
Acupuncture Analgesia
The mechanism of analgesic function involves nerve conduction through the nervous system supplying the bladder and pelvic floor in order to alleviate somatic, visceral, neurologic pain and even phantom pain.
Therapeutic Acupuncture
This is based on the philosophy and principle of Chinese medicine, which is to find the root of the presenting problem(s) and to treat the patient as a whole. Therapeutic acupuncture is a gentle treatment, with mild stimulation, given through recognised acupuncture points. Furthermore, the emotional and mental well-being of the patient is considered just as much as the physiological aspects of the treatment. Therapeutic acupuncture is :
relaxing and calming to harmonising the mind and the body

more focused on creating a stronger immune system in order to improve, maintain and repair the body's natural healing mechanism. Hence, this form of acupuncture plays an important role in treating patients suffering from IC and other bladder disorders such as:

~

frequency & urgency of urination

~

stress incontinence

~

repeated bacterial cystitis

~

vulva pain

~

Interstitial Cystitis
Cystoscopy Results from a Patient Suffering Interstitial Cystitis
Cystoscopy and hyrdodisention showed multiple pinpoint haemorrhages on the bladder mucosa of a patients with Interstitial Cystitis.
The safety and efficacy of traditional acupuncture is paramount in the treatment of Interstitial Cystitis. However, the skills and experience of the acupuncturist in this field is also extremely important.
Principles of Treatment
My general aim is always to treat the root cause of the disharmony be systematic treatment. However, the symptoms of pain, urgency and frequency are frequently so sever in IC patients that I primarily focus on relieving pain and removing anxiety (calming the shen), otherwise I have experienced that severity of these symptoms can hinder treatment of the root cause. From the traditional Chinese perspective, IC is looked at as a chronic disorder (deficiency) of the urinary system as well as other organ systems in the body with acute signs and symptoms (excess) such as pain, frequency, urgency and emotional disturbances. A comparative clinical study, at The Cookham Centre for Complimentary medicine, of 18 patients suffering from IC revealed that there was an 81% relief with signs & symptoms of their condition and 90% improvement in their emotional well being.
Interstitial Cystitis Association
www.ichelp.org
Recent IC Research conducted at The Berkshire Health Clinic - An Investigation into the treatment of Interstitial Cystitis with Acupuncture
I would like to draw you attention to the recent article , An Investigation into the treatment of Interstitial Cystitis with Acupuncture, published in The Journal Of Chinese Medicine. This can now be viewed in the October 2010 Journal (no 94), and is also shown below.
The research was conducted on my IC patients at The Berkshire Health Clinic, together with student acupuncturist, Esther Holford. It was a pleasure to work with Esther, who has now qualified as an Acupuncturist in 2010, and has an interest in the treatment of IC.
The October 2010 Article - click to view
Toni Tucker's detailed article on the presentation, differentiation, and treatment of IC, was published in Issue No 75 of The Journal of Chinese Medicine, page 38 and 44.
For further information, on IC and its treatment please refer to my article in the Journal of Chinese Medicine and Womans own magazine. Also I can be contacted directly at the clinic via email: tonitucker@btinternet.com
Read feedback from patients who have had acupuncture for Interstitial Cystitis and Bladder problems. Click Here